Production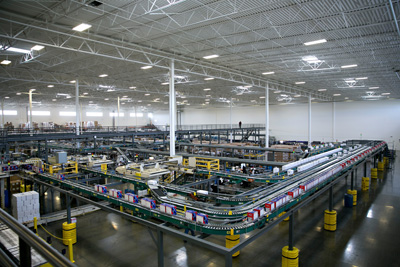 Frank-Lin offers production flexibility unique in the beverage alcohol industry. We are capable of filling a wide variety of bottles ranging from 50mls all the way to 1.75L. Naturally, the same commitment to quality goes into every program. Today, Frank-Lin offers fully automated high speed blending capabilities in small and large batches. Frank-Lin global procurement includes vodka, gin, rum, scotch, bourbon, brandy, tequila, Canadian whiskies, liqueurs and other specialties . Frank-Lin markets over 2,000 brands of distilled spirits plus assorted wines worldwide. With an annual production capability of 15 million cases and on-premise tank storage capacity in excess of 1,500,000 gallons, Frank-Lin has the facilities and expertise to efficiently handle any project. Frank-Lin is a provider of contract bottling services for major national spirit brand owners.
Production Lines
Responding to an ever increasing production demand, Frank-Lin has seven automated production lines housed in our 90,000 square foot bottling facility. The quality and efficiency of the operation is reflected in its state-of-the-art filtration and bottling equipment.
Our willingness to adopt new innovative technologies has led to expansion in domestic market share. Additionally, our well-deserved respect has further created significant international penetration.
Creating New Brands
Consumer taste preferences throughout the world are constantly changing. So, Frank-Lin maintains the on-staff research/development experts to constantly ensure all products match their intended markets.
Whether starting from a prepared prototype or simply a verbal "concept", Frank-Lin can innovatively create any distilled spirit and coordinate its effective production. Of course, the same care goes into every new product assignment- large or small. This same in-house expertise has further enabled the Research and Development and Quality Control Departments to keep pace with the expanding Frank-Lin production. Importantly, the continued quality of all our products is insured by long-term supplier contracts. Many of these relationships have been in place for decades.